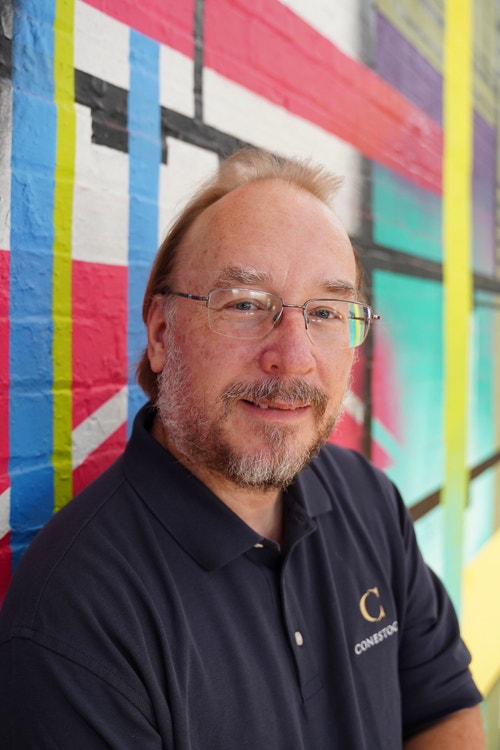 Ignac Kolenko, P. Eng.
Executive director, SMART Centre
Ignac Kolenko, P. Eng. (Ig) is the executive director of Conestoga's Smart Manufacturing and Advanced Recycling Technologies (SMART) Centre, located in Cambridge, Ontario. Ig is a Professional Engineer, with a background in computer and software engineering.
He holds a Bachelor of Applied Science in Computer Engineering degree from the University of Waterloo (1990), was licensed by the Professional Engineers of Ontario (PEO) in 1992, and earned a Master of Technology Management degree from Memorial University of Newfoundland in 2020.
Ig joined Conestoga in 2003 as faculty in the Software Engineering Technician / Technology program he developed for the college. Over eight years, he translated his experience as a software and embedded systems engineer to support technical courses such as industrial application development, operating systems and various machine level programming courses. By maintaining industry connections, Ig was able to bring real-life project opportunities to students for capstone project courses.

In 2011, Ig moved into the role of academic chair in Conestoga's School of Engineering and IT, overseeing all information technology programs as well as all electronics related programs, including the Electronic Systems Engineering degree, Conestoga's second Bachelor of Engineering degree fully accredited by the Canadian Engineering Accreditation Board. Ig developed five new graduate certificate programs for Conestoga and assisted in the development of Conestoga's new Bachelor of Computer Science degree program.
In 2016, Ig moved into the role of director, Centre for Smart Manufacturing (the pre-cursor to the SMART Centre) and oversaw dozens of research projects with industry partners in advanced manufacturing. The success of this research helped establish the SMART Centre in 2020 as one of Canada's newest NSERC-funded Technology Access Centres in Canada. The SMART Centre has become one of the largest employers of Conestoga's co-op talent to support these innovative projects as we reach our goal to help train highly qualified personnel for industry.
Prior to his work at Conestoga, Ig ran a successful software consulting company, and worked for local companies such as Electrohome and MKS. Being a native of Kitchener-Waterloo, with family and friends working in manufacturing sector within the region, he understood the importance of manufacturing to Waterloo Region, and has dedicated much of his life to educating students to be productive participants in this vibrant sector.
Connect with Ig to discuss collaborative project opportunities with the SMART Centre at ikolenko@conestogac.on.ca and LinkedIn.